Hello Families,
In Dearborn tonight, many families are still without  power. Battling the cold weather without power can be an unbearable challenge. Luckily, Dearborn is hosting two overnight warming shelters starting at 6 pm tonight.
The first location is at McCollough Unis School and the second location is at the Ford Community & Performing Arts Center. Please see the addresses below to guide you.
.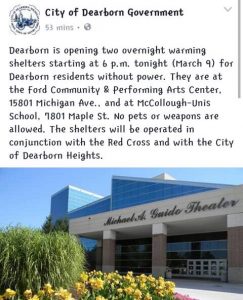 Stay safe and warm tonight.
Sincerely,
The Preschool Staff